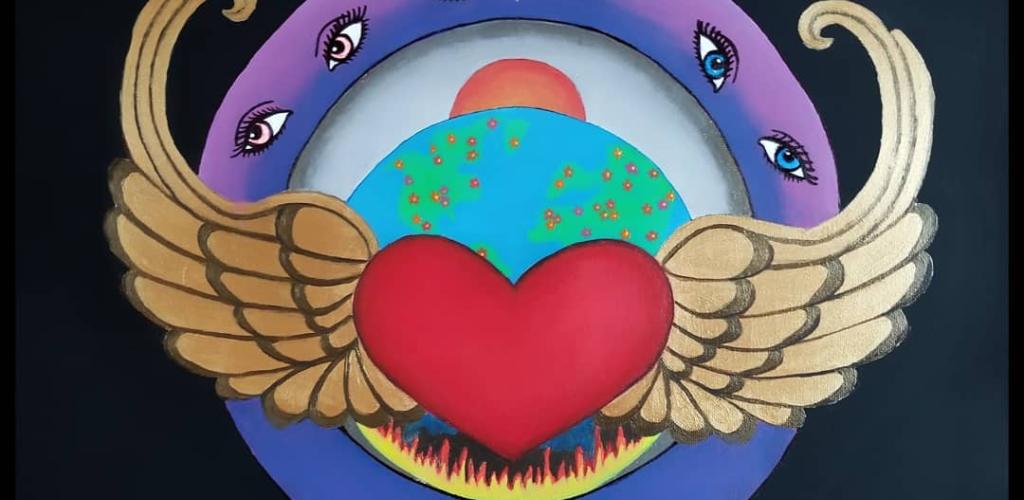 Thanks to Stephanie Lynn Toler for this painting entitled "Ascension".

Dreams do come true - with sufficient vision, trust, faith, cooperation, persistence, passion, work, time and belief! 
The dream of the LovEvolution movement creating a home base in the mountains to incubate, cultivate and grow the revolution of evolution through love is coming to fruition.
After many years of prayer, work and investment – the dream of Camp LovEvolution becoming more than a one weekend a year event space and evolving into a place to hold space for the LovEvolution all year round is finally being realized.
Six years ago at the fourth annual LovEvolution Gathering - "Growing the World We Love" in 2017, I announced the purchase of a beautiful property in a mountain valley bounded by two miles of pristine rivers forty minutes North of Downtown Asheville. Thus began the adventure of graduating beyond the temporary space of Camp LovEvolution hosted at Camp Hope to pioneer our own year round training camp for LovEvolutionaries.
And like most ambitious projects, the creative process took more time, money, work and persistence than any of us anticipated. When we began work on the log event center lodge at the start of 2020 we had no idea of the head winds we would face with Covid, lockdowns, supply disruptions, sky high material prices, worker shortages and you name it. But we persisted and three years later this amazing center is nearing completion.
This LovEvolution Lodge will not only serve as an event center but a chapel as it is now owned by no person but by the original creator of all as the LovEvolution Fellowship free church. We as stewards of the land and lodge are practicing what indigenous people have known for eons – that we do not own or possess the land. Rather the land holds and supports us. May we be good stewards for generations to come.
We have much to celebrate – a new church nestled in a gorgeous mountain valley, the first Fellowship service, a growing worldwide awakening and the beginning of a whole new season of life, ceremony and celebration.
Since our last annual LovEvolution Gathering in 2017, people would ask me "when is the next LovEvolution". I enjoyed responding with – Congratulations; after four years of gatherings you've graduated! The LovEvolution is always and everywhere you be!

But even graduates like to get together for the occasional reunion. And with so much to celebrate and share, it's time for a ReUnion of the Heart Tribe! 
I look forward to this coming memorial weekend when hundreds of LovEvolutionaries will circle up for the opening ceremony in this beautiful mountain valley with our feet on the ground and our heads in the sky, while our hearts hold the intention of cultivating and sharing boundless love and joy.
I expect the goodness we create will ripple out far beyond this mountain valley as we take it home with us to our family and friends and to all who we encounter.
The last few years have been challenging and more challenges (growth opportunities) are coming. But I've come to be thankful for these shake ups which continue to accelerate the great wake up.
I've come to appreciate the expression that Heaven created Hell to chase us all home. So let's give a shout out to all our fears, demons and hard lessons for helping us seek the light, the truth and the divine creator.
As challenging as this process is, it is a great blessing. The great shake up is necessary for the great wake up. It is the necessary process of becoming disillusioned with illusion. It can be a painful process to see the programed darkness and unconsciousness in ourselves and in the collective world. But without discomfort most will not grow beyond their comfort zone.
Such discomfort and disillusionment is a necessary perquisite to know real truth. As more illumination comes in more darkness is revealed and dissolved.
Ultimately, our reality reflects the consciousness we choose to empower. Do we give our attention and energy to fear, anger and division or do we focus on the world we know in our hearts is possible? 
Our vibration not only determines how we feel now but it creates the future we will attract. So who among us can afford to have a negative mindset and vibration?
I have faith that truth and love will ultimately prevail over ignorance and fear. As more people taste the goodness of truth and love they will no longer have any taste for ignorance and fear.
Do you have faith that the world you know in your heart is possible is on the way? Do you hear the call to unite and ignite the LovEvolution in your heart so it can ripple out into the world to create a sea of change?

If so, come join us at the end of May for the ReUnion of the Heart Tribe. Let's cultivate and amplify the vibrations of love, truth and joy and send them rippling out into the world to create a sea of change. The Kingdom of Heaven is already here for those with eyes to see, ears to hear it and hearts to feel it.
For more information about the 2023 LovEvolution Gathering Schedule and Tickets.